Miley Cyrus Breaks The Mold During iHeartRadio Label Defiers Podcast Debut
No other female that has shattered the perimeters of what it means to be a pop star in the last decade like Miley Cyrus. On the heels of a promotional circuit to spread word of her single, "Malibu," the pop titan stopped by the office to help launch our newest podcast, iHeartRadio's Label Defiers with ZICO Coconut Water, which hears some of your favorite stars rip off the labels to unveil sides of their persona that you don't see too often.
For our first episode, host Elvis Duran of the nationally syndicated Elvis Duran and the Morning Show sat down with the 24-year-old chart-topper and led a candid chat about her thoughts on the pressures of fitting into the pop mold, the reason she's so invested in her Happy Hippie foundation and younger sister Noah.
"I want to talk to them about what they're passionate about," Duran said at the beginning of the podcast. "What do they want to talk about? Because that's how we truly figure out what makes an artist tick. What makes them real."
For Cyrus, part of what makes her real is the connection that she has with her fanbase. Early into the podcast, the star spoke about how good it feels to make human contact. "People forget how important it is to communicate with people," she said. "I think that's what keeps me going to write more music. I actually want to connect with people. It was really a great time to play 'Inspired' in Manchester. You actually got to see the way your songs can affect people and the way that they can heal people, and use music for its full potential instead of just to have something played on the radio."
Still, that doesn't mean that one of the biggest pop stars around feels like she even fits into the mold. Hence, her desire to defy labels and live on her own terms. Asked if she feels like she finally fits into the scene, Cyrus said: "I'm a freak, no. I love it and I'm proud to be a freak. Yeah, I'll never fit in."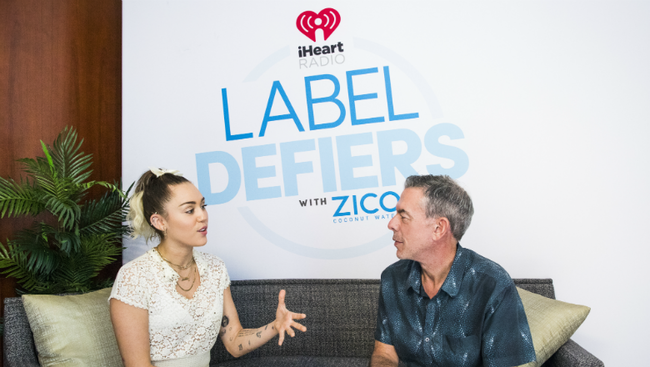 Aside from her pop hits, Cyrus has made a name for herself through her Happy Hippie Foundation, the non-profit organization she started in 2014, which focuses on youth homelessness and the LGBTQ community. "Each person feels like I started [Happy Hippie] just for them. In their own way, they've had their own story of how it's changed their life. That's the best thing that I could ask for," she explained. "I know how it feels like to feel like you don't fit in, and to make them feel like they belong and that can be the Happy Hippie family, that's the raddest ever."
In between the chaos of her 2017, Cyrus is still attempting to lock in a release date for her as-yet-untitled new album, which will include the aforementioned "Malibu" and the recently-released "Inspired."
Click here for more information on Miley Cyrus' postcast with iHeartRadio's Label Defiers with ZICO Coconut Water.
Photo: Katherine Tyler for iHeartRadio